DemDaily: This Week In Jokes
September 9, 2016
Election news dominates the news cycle every four years -- and this year, more than ever before -- also provides the late night hosts with unlimited content. For a little reprieve from the serious stuff, the best of this week's political fodder!
"Yesterday, in China, President Obama had a meeting with Vladimir Putin. And before they started, Obama texted Michelle: 'Going into a meeting, love you,' while Putin texted the same thing to Donald Trump." - Jimmy Fallon
"A lot of people were saying President Obama was snubbed by China when they didn't have the stairs ready for him to get off the plane. In fact, Donald Trump said that if that ever happened to him, he'd just close the plane doors and leave the country. Every other country was like, 'That's all we have to do? Thank you. That's perfect!'" - Jimmy Fallon
"A national Washington Post survey found that Donald Trump has historically low support among college-educated women. It's from their new segment, 'Stuff You Could Have Guessed.'" - Seth Meyers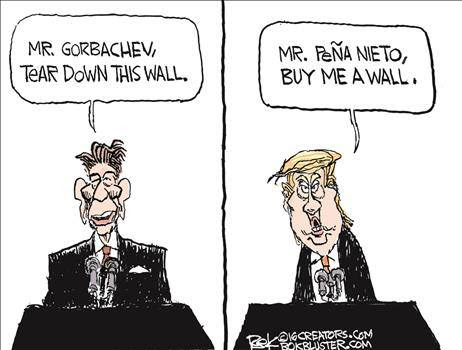 "Tonight, President Obama is going to make a speech trying to convince people to vote for Hillary Clinton instead of Donald Trump. It's a speech entitled, 'I Can't Believe This Is Necessary.'" - Conan O'Brien
"Last night, Donald Trump said if he's elected, he will employ a 'deportation task force.' It's not really necessary, because if he's elected most people will probably leave voluntarily." - Conan O'Brien
"A new poll reveals that supporters of both Hillary Clinton and Donald Trump are motivated by fear, not excitement. And third-party candidate Gary Johnson supporters are motivated by being related to Gary Johnson." - Conan O'Brien
"At first Donald Trump came out with guns blazing, said he's going to kick all the Mexicans out, he's going to build a wall to keep them from coming back in. Last night during a town hall on Fox News he said he could be softening, which is normal, it happens to a lot of men his age. He's now agreed to give immigrants a 30-minute head start before he tries to catch them with a net." -Jimmy Kimmel
As always, DemList will keep you informed, and entertained!
DemList
Connecting you to The Party
Connecting you to Each Other
Kimberly Scott
Publisher