DemDaily: Pillars of the Community
September 23, 2016
This Saturday, September 24th, the first national museum dedicated to the history of African Americans -- the National Museum of African American History and Culture -- will open in our nation's Capitol.
The museum, which is the result of a century-long campaign for its creation, features 3,600 bronze-colored cast-aluminum panels weighing 230 tons, and a "Porch," which serves as the main entrance on Madison Drive. The Architecture is meant to be reminiscent of the 19th century ironwork featured in Louisiana buildings built by slaves.
The Museum broke ground on February 22 2012 and the first exhibits were installed in 2013 in the form of a segregation railway car from 1918 and an early 20th century prison guard tower from Arkansas.
The costs was projected at $500 million, half of that money were Congressional backed, and the other half was privately funded - including the single largest donation of $13 million from Oprah Winfrey.
As early as 1915, activists fought for a museum as a testament to African Americans' contributions and struggle - at a time when few serious academics recognized the existence of black history.
On March 4, 1929 President Calvin Coolidge, in one of the final acts of his administration, approved the construction and budget for an African American History Museum in Washington DC, but the project was abandoned after the collapse of the global market place in October of that year.
The campaign intensified after World War when black veterans were barred from white veterans parades, but it was not fully galvanized again until the late 1960s.
In 1986, a joint resolution to create the museum was introduced by Congressman Mickey Leland (D-TX), Senator Paul Simon (D-IL) and John Lewis (D-GA). In 1991 the Smithsonian approved a project to collect, research, and analyze pieces for the museum and, following the efforts of a bipartisan coalition including Lewis, JC Watts, Jr (R-OK) and Senators Sam Brownback (R-KS) and Max Cleland (D-GA), The NMAAHC was finally created by an act of Congress in 2003.
President Obama and first lady Michelle Obama will be attending the opening ceremonies, along with former first lady Laura Bush and President George W. Bush, who signed the NMAAHC legislation into law.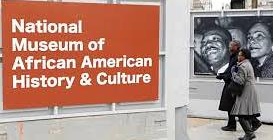 A host of celebrities, dignitaries, donors, academics and public figures, as well as thousands of tourists, have descended on DC for the historic event, which follows a week of receptions, movie screenings, workshops and academic discussions.
Music legend and NMAAHC council member Quincy Jones will lead the "Freedom Sounds" Music Festival
tomorrow
on the Mall.
The museum is managed by the 
NMAAHC Council
, which is made up of 19 appointees selected by the Smithsonian Board of Regents in 2004. Its philosophy rests on four pillars:
To provide an opportunity for those who are interested in African American culture to explore and revel in this history through interactive exhibitions.
To help all Americans see how their stories, their histories, and their cultures are shaped and informed by global influences.
To explore what it means to be an American and share how American values like resiliency, optimism, an spirituality are reflected in African American history and culture.
To serve as a place of collaboration that reached beyond Washington to engage new audiences and to collaborate with the myriad of museums and educational institutions that have explored and preserved this important history before this museum was created.
Address:  200 15th Street, NW (corner of Constitution Avenue, NW & 14th Street, NW)
Connecting you to The Party
Connecting you to Each Other
Kimberly Scott
Publisher