DemDaily: The Hearings, Day Three
January 12, 2017
Confirmation hearings for the President-elect's Cabinet nominees began Tuesday, along with some fodder for the drama-seekers.
Homeland Security nominee General John Kelley testified Tuesday, and on Wednesday the Judiciary Committee completed two-day testimony by Attorney General nominee Jeff Sessions. The Foreign Affairs committee began questioning of Secretary of State nominee Rex Tillerson, and the hearing for Transportation Secretary nominee Elaine Chao began yesterday afternoon.
The Highlights
Sessions
Sessions, who was rejected for a Federal Judgeship in 1986 amid charges of racism, faced scrutiny on his civil rights record by both colleagues and a number of protestors throughout the hearing.
Senator Cory Booker (NJ) became the first sitting senator to testify against a fellow sitting senator in a cabinet confirmation hearing. "His record indicates that we cannot count on him to support state and national efforts toward bringing justice to the justice system," Booker said.
Joining him on the final panel of the day were Congressional Black Caucus Chair Cedric Richmond (D-LA) and Congressman John Lewis (D-GA).
Richmond: "Simply put, Senator Sessions has advanced an agenda that will do great harm to African-American citizens and communities." Richmond also noted that the fact that his testimony, and that of Booker and Lewis, were the last to be scheduled was equivalent to "being made to go to the back of bus."
Lewis: "It doesn't matter how Senator Sessions may smile, how friendly he may be, how he may speak to you," he said. "We need someone who's going to stand up, speak up and speak out for the people that need help."
Tillerson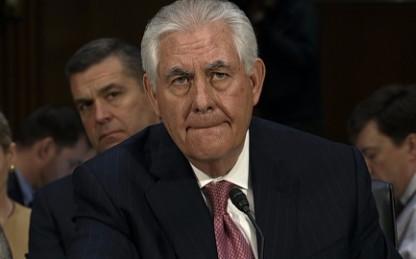 Tillerson, who is among the most controversial nominees, faced tough questioning from Dems and Reps, including Senator Marco Rubio (R-FL) on Tillerson's refusal to acknowledge war crimes and human rights abuses by several countries, including Russia.
Senator Tim Kaine (D-VA) took Tillerson to task on his view of climate change science as "inconclusive," asking Tillerson about allegations of Exxon Mobil's decision to fund and promote a view contrary to its awareness of existing science. Tillerson declined to comment.
Today's Lineup
Dr. Ben Carson, Housing & Urban Development Secretary nominee - livestream link via CNN
General James Mattis, Defense Secretary Nominee - live stream link via CNN
Mike Pompeo, CIA Director nominee (non-Cabinet) - live stream link via CNN
All three hearings began at 10:00 AM EST. Tune in!
DemList will keep you informed!
DemList
Connecting you to The Party
Connecting you to Each Other
Kimberly Scott
Publisher